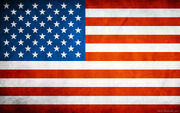 The
United States 0f America
is one of many USA-based Nations, and perhaps the most active, governed by Nathan Alvashere. The
United States of America
(also referred to as the
United States
, the
U.S.
, the
USA
, the
States
, or
America
) is a
federal
constitutional republic
comprising
fifty states
and a
federal district
. The country is situated mostly in central
North America
, where its
forty-eight contiguous states
and
Washington, D.C.
, the
capital district
, lie between the
Pacific
and
Atlantic Oceans
, bordered by Canda to the north and
Mexico
to the south. The state of
Alaska
is in the northwest of the continent, with Canada to the east and
Russia
to the west across the
Bering Strait
. The state of
Hawaii
is an
archipelago
in the mid-Pacific. The country also possesses
several territories
in the
Caribbean
and Pacific.Along with 20 colonies and territories within the Persues Milky Way arm.
Farther Information can be found here
http://us0a-unitedstates0famericafbnations.weebly.com/index.html
Statistics
Capital: Washington D.C. Climate: Space DemographicPopulation: 20,698,389,376 Military Size: 10,349,194,688 Largest Religion: Athiesm Language: English EconomicCurrency: VAN Mark Wealth: $2,069,838,937,600,000 Unemployment: 0% PatrioticMotto: United We Stand, and Broken We Fall Nickname: US0A Color(s): Red, White, and Blue Flower: Rose Tree: Oak Bird: Bald Eagle

Colonial Populations:
Caprica-6.7 billion
Earth-6.4 billion
Dominion-4.0 billion
New Galdora-1.5 billion
Virgon-1 billion
Leviathon-970 million
Trigon-530 million
Gemenon-410 million
Raptor-390 million
Caldari-335 million
Aquarius-270 million
Freiheit-190 million
Samari-83 million
Naxia-31 million
Raigon-20 million
Celestas-18 million
Aurora-15 million
Abidmant-14 million
Cassandra-12 million
Boreas-8 million
Government
Ad blocker interference detected!
Wikia is a free-to-use site that makes money from advertising. We have a modified experience for viewers using ad blockers

Wikia is not accessible if you've made further modifications. Remove the custom ad blocker rule(s) and the page will load as expected.