Raltirian Honor Guard

Country

Type

Military Special Forces

Branch

Raltirian Honor Guard
Details

Size

500,000

Training duration

12 months basic plus 3-6 months advanced specialized training

Duties

Guard the Imperial Palace of Denethier

Serve as elite combat outfit

Conventional and unconventional combat operations
Service History

Active

1897-Present

Engagements
Commanders

Commander-in-Chief
Recently, I was invited to watch a demonstration of 800 freshly trained Honor Guard troopers against 1200 crack army soldiers in the Highlands. There was no contest. To think that these men are my guardians... I'll sleep well tonight. -Raltir's Heir, His Honor the Supreme Counselor Dave Ellis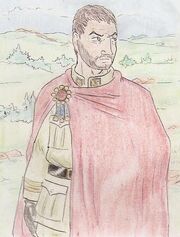 The Raltirian Honor Guard is a unit of the most highly trained men in the whole of the Raltirian armed forces. It's quite easy to claim that these men dwarf the United States Marines in almost every way. These are 500,000 full time professional soldiers, performing jobs ranging from full fledged field combat to small tactical operations. The most important function of the Honor Guard, however, is to protect the Supreme Counselor and defend the city of Denethier. At any given time, there are 2,000 men guarding the Imperial Palace and another 3,000 on active duty in the rest of the city, mainly in the vicintity of the Supreme Counselor.
Section heading
Write the first section of your article here.
Section heading
Write the second section of your article here.
Ad blocker interference detected!
Wikia is a free-to-use site that makes money from advertising. We have a modified experience for viewers using ad blockers

Wikia is not accessible if you've made further modifications. Remove the custom ad blocker rule(s) and the page will load as expected.