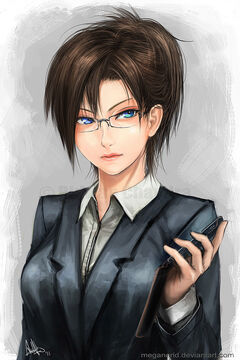 The head of one of the twelve Asha Families, she is a tough woman filled with quiet confidence. Using the chaos caused by the Flight to her advantage, she would go on to become a major player in Ishii politics and economics.
Mism a'Pynreith
Biographical Information
Date of Birth

141 B.N.E.

Physical Description
Species

Ishii

Gender

Female

Height

157.5 cm

Hair Color

Brown

Eye Color

Blue

Skin Color

Pale

Cybernetics

Left Eye

Chronological and Political Information
Era(s)
Affiliation

Kingdom of Ish'Cong

Position

a

Skills and Abilities
Languages

Basic
Biography
Edit
Early Life
Edit
Mism was the spoiled only child of a relatively successful shop-keeper in what had become one of the towns closer to the ever shrinking border. In spite of the worsening war, her young life was both stable and normal, with the topic of the war rarely touching directly on the small town she lived in.
This would change dramatically around the 12th year of her life, when a break in the lines erupted near her little part of the world. The ensuring battles swept across her little town and took the lives of both her parents with them, with Mism herself bearing witness to their deaths. She wound up having to trek cross-country, alone, in a warzone in order to make it behind Ishii lines to safety several weeks later. How she managed that is a tale she has never disclosed.
Personality
Edit
She has been called stuffy and obnoxiously formal in her professional life, and little better in her personal, and very private, life. Mism seems intent to seperate the two, and none of her employees has ever really come close to the cold a. As such, other elements of her personality have been hard to discern.
Connections
Edit
The Pynreith Family, and Mism as the head of that Family, owns Hry-Thoei Ship Design, a rather large corporation that deals primarily with the design and manufacture of ships of war. It does, however, work with other models, on top of owning several lesser branches that work in the same industry, such as Star's Solace Ships.
It is largely through this company that Mism has managed to reach the point where she is commonly considered fifth among the Asha.
Ad blocker interference detected!
Wikia is a free-to-use site that makes money from advertising. We have a modified experience for viewers using ad blockers

Wikia is not accessible if you've made further modifications. Remove the custom ad blocker rule(s) and the page will load as expected.