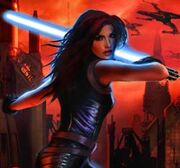 Marina Phillips
Biographical information
Homeworld
Born

34 BNE

Died

1 NE

Physical description
Species

Imperri

Gender

Female

Height

6'1"

Hair color

Dark Red

Eye color

Emerald Green

Skin color

White/Caucasian

Chronological and political information
Era(s)

BNE

Affiliation
Known apprentices

Tanis Phillips
Marina Phillips, also known as Darth K'ata, was the mother of Tanis and her brother, the wife of Shane Phillips and the Empress of ImperiusX before her tragic death in 1 NE, at the age of 35.
A strong, determined woman of many skills; she was a powerful Sith and an even handed Empress, running the nation alongside her husband. But she was also a caring mother and a lovng wife.
Life
The details of Marina's life before adolscence are not widely known, and she hardly ever spoke of these years.
Born into a broken family and poverty, and with nothing but a bleak future ahead of her, one that would squander her natural talents and Force Sensitivity, things would actually improve for her after they took a turn for the worse. After loosing her home, her remaining family and nearly her life, Marina eventually managed to stow away on a transport headed for the rural areas. Bitter and fearful, she spent several years of her childhood withdrawn and alone. Things changed when she reached adolesence, however. A tough life had taught her to be a much harder person, using her bitterness and hate to survive. As a result, she excelled at her training when she found the Sith Academy. Somewhat ironically, this is where she and her future husband first met. Though they despised each other when they first met, they found themselves inescapably attracted to one another, and eventually gave in to their feelings. This proved to be a good thing, however, as they formed quite the duo...
Childhood
(To be completed)
Powers and abilities
Skilled mainly in Makashi, but equally in Juyo and, to a lesser extent, Ataru.
Was a very powerful Force-User since a young age
Ad blocker interference detected!
Wikia is a free-to-use site that makes money from advertising. We have a modified experience for viewers using ad blockers

Wikia is not accessible if you've made further modifications. Remove the custom ad blocker rule(s) and the page will load as expected.