Lord Thiess
Biographical Information
Current Residence

Inquisitor, Executor-class Star Destroyer

Place of Birth
Date of Birth

277 NE

Date of Death

Assumed Dead 307 NE

Physical Description
Species

Human

Gender

Male

Cybernetics

Mobile Life Support System (Millennial era)

Chronological and Political Information
Era(s)

Expansionist era
Jedi Rebellion era
Millennial era

Affiliation
Position
Known Masters

Darth Sephira

Family Information
Wife
Skills and Abilities
Supernatural

The Force

Languages

Galactic Basic
Basic Kryptonese

Miscellaneous Information
Weapons

Lightsaber (crimson)
Lord Thiess (later Darth Thiess) was a human born on
Ziostos
, who would go on to train with the
Imperial Order of the Sith
. In his time with the Order, he rose to the rank of Dark Lord under the training of Darth Sephira. He fought in the Jedi Rebellion as a Stealth Sith Fighter Pilot.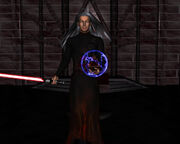 He was married to Isard Glover, the High Priestess of Corelaari in 301 NE.
Ad blocker interference detected!
Wikia is a free-to-use site that makes money from advertising. We have a modified experience for viewers using ad blockers

Wikia is not accessible if you've made further modifications. Remove the custom ad blocker rule(s) and the page will load as expected.