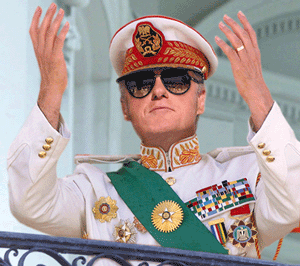 Adolf Highlighter. Prime Minister of the Commonwealth of Great Grammar and Spelling
Born 1st April 2000.
Verbiage Birthing Hospital
Mother: Tinta Highlighter (nee Postscript)
Father: Neon Highlighter
Education: 2005 - 2017 Bracket Local School. Awarded Tertiary Entrance Rank 86.4%
2018 - 2022 Sharpener Institute of Higher Learning. Awarded Bachelor of Science (Hons)
2022 - 2027 Verbiage University. Awarded Master of Science (First Class) and the University Medal.
Employment: 2025 - 2030 Smith and Smith Ltd. (Weapons Research)
2030 - 2032 Label and Stamp Automation Pty Ltd (Robotics Division)
Parliamentary Career: 2030 Conservative Candidate for Verbiage South. Defeated
2034 Conservative candidate for Verbiage South. Defeated
2038 Conservative Candidate for Verbiage South. Elected
2042 Re-elected. Deputy Leader of the Conservative Party
2046 Re-elected. Prime Minister
2048 Assumed the title of Duke
Ad blocker interference detected!
Wikia is a free-to-use site that makes money from advertising. We have a modified experience for viewers using ad blockers

Wikia is not accessible if you've made further modifications. Remove the custom ad blocker rule(s) and the page will load as expected.